Tetsuya Tamanoi's "Pop Out Again." Exhibition at Speedy Gallery in Los Angeles!
The lockdown in Los Angeles has subsided thanks to the vaccine, so we decided to hold our first exhibition this year!
This year's exhibition will also showcase the results of the digital transformation of the gallery that we have been working on since last year.
1. Works by Tetsuya Tamanoi, colorful sculptures inspired by Japanese pop culture.
2. Online viewing of a complete 3D reproduction of the gallery is also available
Can't visit the gallery in Los Angeles? We've got you covered! You can enjoy the exhibition from comfort of your home with our online gallery!
We have partnered with V21 Artspace (London), an organization involved in setting up the 3D websites for Hauser & Wirth (London, Hong Kong, New York, etc.) and other world-class museums (Derby Museum and Art Gallery, Nottingham Castle, etc.).
3. Shop from anywhere in the world! e-commerce website (in partnership with Shopify) available!
Our online gallery is linked to our EC site!
Our artworks can be shipped from Los Angeles to anywhere in the world.
We accept credit cards,  and cryptocurrency via PayPal is also available!
————————————
Speedy Gallery Inc. (California), a U.S. subsidiary of Speedy, Inc. (Minato-ku, Tokyo), has launched "Pop Out Again.," an exhibition featuring the new works of contemporary artist Tetsuya Tamanoi, on May 1st as its first solo exhibition of 2021.
Although the gallery has been unable to hold new exhibitions for some time since last year due to the lockdown, we have decided to hold this exhibition based on the recommendation of Rochelle Walensky, Director of the Centers for Disease Control and Prevention (CDC), that "people who have been vaccinated against COVID-19 may safely participate in small to medium-sized gatherings, including outdoor exercise and meals, without wearing masks." (April 27th)
■A closer look at the exhibition (by Atsushi Fukuda, Owner, and Curator of Speedy Gallery)
Born in 1970, Tetsuya Tamanoi belongs to the so-called "MTV generation".
In addition to being a contemporary artist, he also has a studio where he designs filming sets and creates sculptures.
While Tamanoi was strongly influenced by Japanese pop culture as with others from this generation, he has also been fascinated by the West Coast culture in the U.S.
A wide range of excellent entertainment content can be found in Japan, including many comics that have been adapted into Hollywood movies and TV anime series that have been exported to Europe since the 1980s.
Let's not forget Godzilla and other special effects movies produced by Toho, a major Japanese studio that has leased its sound stages to Netflix, as well as the chivalry film series of Toei that Tarantino adored.
Countless figurines inspired by these movies have been released, and even today, there are many fans of monster figurines around the world. Tamanoi's works make use of a special coating method and polyester resin to replicate the shapes of these figurines. He has also created new forms of expression by harnessing gradations that are used in ukiyo-e prints.
Tamanoi's idea of art is to embellish these Japanese brands with a distinctly Western style.
Please visit the physical or online gallery to enjoy all 31 works featured in this exhibition, including four new works and three-dimensional works by the artist.
◆ About the artist Tetsuya Tamanoi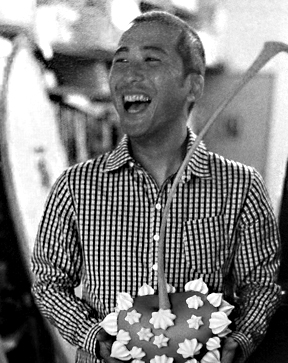 TETSUYA TAMANOI
Tamanoi was born in 1970. After working at an agricultural cooperative, a company selling Buddist accessories, and owning a dance club, he started becoming involved in sculpture, artistic design, and model production in 2000.
He launched his career as a contemporary artist in 2008.
– Solo exhibitions
2009: "A Dreamless Afternoon" (MORI YU GALLERY TOKYO)
2012: "Relics of an Imaginary World, Vol. 1" (MORI YU GALLERY TOKYO)
– Commissioned works
2009: "The Brigade Hermèstsch" (Window display at MAISON HERMÈS, Tokyo)
Courtesy by Hermès
◆Speedy Galleryとは
Speedy Gallery opened in March 2018 in downtown Los Angeles. The gallery relocated to Santa Monica in March 2021 (current address: 2525 Michigan Ave. B5B, Santa Monica, 90404), United States.
Speedy Gallery showcases and sells the works of top Japanese artists. The gallery is also committed to enhancing the betterment of the local and global community through art.
Speedy Gallery L.A. related website
◆Official website
http://speedyartgallery.com/
About the gallery
http://spdy.jp/news/s3576/
Instagram
https://www.instagram.com/speedygallery_la/
3D Online Viewing
http://speedyartgallery.com/online-gallery
e-SHOP (shopify)
https://speedyshop.jp/
◆Reference
Press release (Japanese)
Japanese version
玉ノ井哲也の「Pop Out Again.」展オープン! Speedy Gallery in Los Angeles