Tetsuya Tamanoi's "Pop Out Again." exhibition opens! Speedy Gallery in Los Angeles
Now that the lockdown in Los Angeles has subsided due to the vaccine effect, we've decided to put on our first exhibit of the year!
Point 3.
This exhibition will also showcase the results of the DXing of the gallery that we have been working on since last year.
(1) Introducing Tetsuya Tamanoi, a contemporary artist who colorfully sculpted Japanese pop culture
(2) Online viewing of the gallery, fully reproduced in 3D.
And if you can't make it to L.A., you can still see it in real life!
Partnership with "V21 Artspace" (London), which also produces 3D sites for world-class museums (Gadderby Museum and Art Gallery, Nottingham Castle, etc.) and Hauser & Wirth (London, Hong Kong, New York, etc.).
(3) Provides a commerce site (in partnership with Shopify) that allows customers to buy from anywhere in the world.
*above, linked to the 3D site!
We can ship your work from Los Angeles to anywhere in the world.
In addition to traditional credit card payments, it will also be possible to pay in virtual currency via PayPal.
————————————
Speedy Gallery Inc., the U.S. subsidiary of Speedy Corporation (Minato-ku, Tokyo), opened its first solo exhibition of contemporary artist Tetsuya Tamanoi's new works, "Pop Out Again.
Since last year, we have been unable to hold a new exhibition due to the lockdown for a long time, but the director of the Centers for Disease Control and Prevention (CDC), Rochelle Walenski, told us, "With regard to the new coronavirus, vaccinated people can safely attend small and medium-sized gatherings that include outdoor exercise and meals without masks" ( April 27), we have decided to hold this event.
Prologue to the exhibition (Speedy Gallery owner / curator Jun Fukuda)
Tetsuya Tamanoi was born in 1970 and is a member of the MTV generation.
In addition to being a contemporary artist, he also has a studio where he designs sets for filming and produces sculptures.
This generation was strongly influenced by Japanese pop culture, but at the same time, they also admired the culture of the American West Coast.
Japan has excellent entertainment content. First, there are comics, which have been made into numerous Hollywood movies, and TV animation, which has been exported to Europe since the 1980s.
Godzilla and special effects films made by Toho, a major Japanese film studio that now has Netflix as its corner studio. There is the Toei ninkyo series that Tarantino loved.
Many figure toys were released from those movies, and even today there are many monster figure fans all over the world. The figures are made of polyester resin and painted in a special way to imitate these toys. The gradation used in Ukiyo-e prints is also applied to achieve a new expression.
Tamanoi's idea is to spice up those Nippon brands with a Western taste in art.
We hope you will enjoy the 31 works in this exhibition, including the three-dimensional works and four new pieces, at the gallery or online.
About the Artist Tetsuya Tamanoi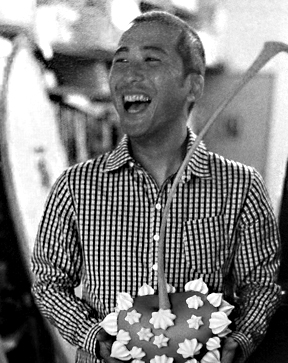 TETSUYA TAMANOI
Born in 1970. After working as an employee of an agricultural cooperative, a company selling Buddhist ritual utensils, and the owner of a club (for dancers), he began working in sculpture, art design, and modeling in 2000.
In 2008, he began his career as a contemporary artist.
– one-man exhibition
2009 : "An Afternoon Without Dreams," MORI YU GALLERY TOKYO
2012 : "Imaginary World Heritage vol,1" MORI YU GALLERY TOKYO
– commission work
2009 "Brigade Hermetsch" Maison Hermes Window Display, Tokyo, Japan
Courtesy by Hermès
What is Speedy Gallery?
Speedy Gallery opened in March 2018 in downtown Los Angeles, CA (current address: 2525 Michigan Ave. B5B, Santa Monica,90404), U.S.A. In March 2021, Speedy Gallery moved to Santa Monica.
Top Japanese artists are introduced and their works are sold. In addition, a portion of the proceeds will be donated to social causes with the aim of solving local community and social problems through art.
Speedy Gallery L.A. Related Site
◆Official website
http://speedyartgallery.com/
Gallery Details
http://spdy.jp/news/s3576/
Instagram
https://www.instagram.com/speedygallery_la/
3D Online Viewing
http://speedyartgallery.com/online-gallery
e-SHOP (shopify)
https://speedyshop.jp/
◆ Reference
Japanese Press Release
English version
Tetsuya Tamanoi's "Pop Out Again." Exhibition at Speedy Gallery in Los Angeles!